Duke *Senior Star*'s Web Page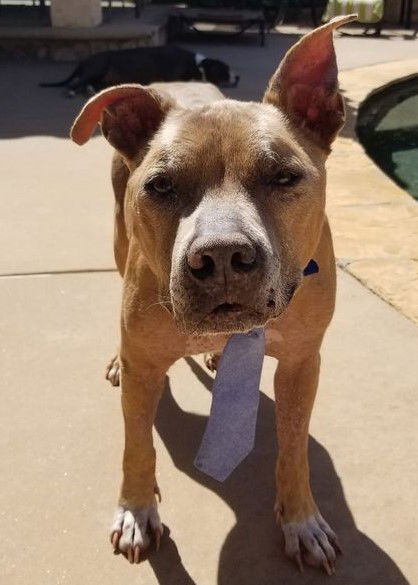 Breed:
American Staffordshire Terrier / Mixed (short coat)
General Potential Size:
Medium
Current Age:
13 Years 7 Months (best estimate)
Activity Level:
Moderately Active
Indoor or Outdoor:
Indoor Only
Description:
Meet Duke! Duke is a gorgeous fawn male who is just as beautiful in spirit as he is in looks! Duke is currently being fostered with a small dog and large dogs. He's also historically friendly with horses and cats! He loves to eat and gives everyone (2-legged and 4-legged) kisses. He is neither toy nor food possessive. Duke knows "sit", "down", "stay", "come", and "shake"! Duke also loves to talk and will give you his complete attention when you talk, as though he knows exactly what you are saying. At the end of the day, Duke prefers to lay by you with his head on your leg.
Video of Duke *Senior Star*:

Other Pictures of Duke *Senior Star* (click to see larger version):

67.8k

126.5k

121.4k

65k

67.7k

74.7k

71.7k

46.8k

47k

69.6k

323.6k

1085.4k

315k

617.1k

587k

526.2k

281.4k

453k

508.2k

69.5k

94.5k

208.9k

73.4k

42.6k

33.1k

91.5k

48.9k

73.5k

14.8k

6.7k

43.5k

29.6k

36.4k