Dusty **Courtesy Listing**'s Web Page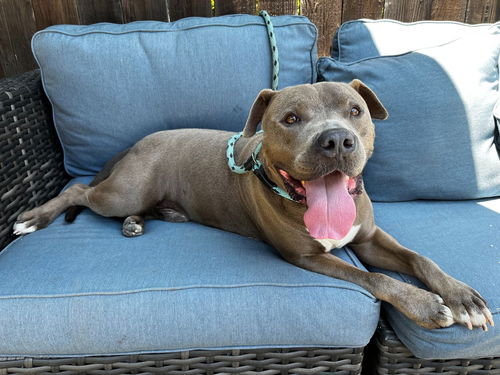 Name:
Dusty **Courtesy Listing**
Status:
Available for Adoption
Please Note: This animal is listed as a courtesy to another organization. Please be sure to contact the foster/caretaker for more information about him.
Breed:
American Staffordshire Terrier / Mixed (short coat)
General Potential Size:
Medium
Current Age:
7 Years 3 Months (best estimate)
Activity Level:
Moderately Active
Indoor or Outdoor:
Indoor Only
Description:
Meet Dusty, a six year old neutered blue and white mutt with lots of love and devotion to share. His favorite thing to do is eat, but he really loves a good back scratch, and gives lots of kisses in exchange! Dusty enjoys a car ride, and really likes easy meditative daily walks, learning the smells of the neighborhood, and greeting fellow mindful mutts and humans. He is still working on his self-confidence, and appreciates yummy nuggets for his good behavior with others. We haven't had a chance to see Dusty interact with children so would want to make sure kids were respectful and monitored. As far as other pets, cats especially, he would probably prefer the single life, where he can bask in your undivided attention. Will you make this handsome, genuinely good boy a new member of your pack?
Contact:
Gusti Lind
949-439-3382